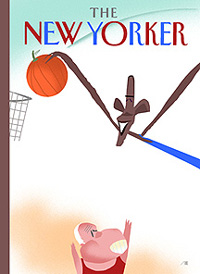 Rearing our liberal bias once again, but you have to admit that McCain is just getting served on that cover, and who wouldn't want a president that can ball a little (Yeah, I know Palin played in high school, but...)?
Todd told me to tell you guys not to read this interview of his, or something like that. If you see the link and you're sitting down, get up and walk away. That was more like it.
Bogus Trend of the Week: Dudes with Cats. Running a little low on content am I?
The Wolves won a pre-season game against The Bucks, but that is meaningless really. I should just stop there...